Finance Your New Heating and Air Conditioning System
We, Arctic Heating and Cooling, are an HVAC company that serves Central New Jersey's commercial and residential heating and AC needs. We have NATE certified technicians who can install, repair, maintain or even replace your heating or cooling equipment fast, professionally and afford ably. We are proud to announce that we have HVAC financing options available for our clients. As a veteran in the industry, we know of most financing opportunities that our clients can benefit from. We have teamed up with Wells Fargo Bank, N.A. to enable our clients to get the funds they need to upgrade, repair or maintain their HVAC equipment, subject to approved credit.
HVAC Financing for a New Carrier HVAC System
Carrier and Wells Fargo financing are available to clients who need installation and or replacement of heating systems and air conditioning systems. Not all homeowners have sufficient money, at their disposal, to pay for urgent repairs or upgrades of their HVAC equipment. HVAC Financing allows you to buy now and pay over time, thereby enabling people access the HVAC equipment or services they need when they need them. With this financing, people need not suffer poor indoor air quality for lack of money, and they also need not tap into their savings or other funds to access HVAC equipment or services.
Install Your HVAC System and Make Convenient Payments
Wells Fargo Financing
Buy today, pay over time with the Carrier® credit card issued with approved credit by Wells Fargo Bank, N.A. an Equal Housing Lender.
With approved credit from Wells Fargo, you'll enjoy:
· Convenient monthly payments
· Flexible financing options
· Easy online account management
Plus, by taking advantage of financing, you won't use up your existing funding sources, like a home equity line of credit, other credit card or bank account. They'll still be available when you need them. Please contact us to find out which financing options are available to you, or to learn about special financing promotions.
Click the image below to apply for financing.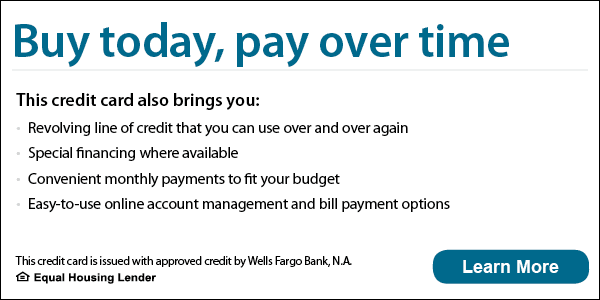 At Arctic Heating and Cooling, we do not stop at installing, replacing, repairing or servicing your HVAC equipment, but seek financing opportunities for our clients. We encourage our customers to take advantage of the Carrier HVAC equipment discounts, as well as flexible financing options from Wells Fargo. These funding can be used to cater for expensive repairs or HVAC equipment upgrades.